Case study
Biomass Heating System for Anglesey Holiday Homes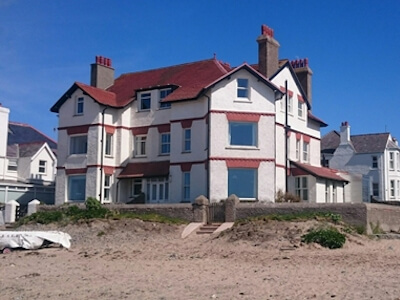 Ynys Groes, a 100 year old six bedroom holiday rental property and Brodawel, an adjoining three bed apartment also rented out for holiday rental, occupy a beach front location in the popular resort of Rhosneigr, Anglesey.
Though enjoying an enviable position the properties are exposed to the westerly winds coming across the Irish Sea (hence Rhosneigr is a magnet for kite and windsurfers!) and being coastal the environment is perpetually damp.  The properties were expensive to heat during the winter months especially as mains gas is not available.
To address this issue Fervo Renewable Energy have installed a wood pellet biomass heating system to service all the heating and hot water needs of the two dwellings.  A space saving and highly efficient ETA 32kW PC boiler replaced the old oil boiler at Ynys Groes together with a 1,000 litre buffer tank from which separate pipes were connected to the existing heating and hot water systems in each property.
The ETA boiler installation was accompanied by the addition of a 5 tonne wood pellet store positioned unobtrusively adjacent to the boiler house allowing bulk deliveries of wood pellets which are fed through vacuum pipes into the boiler.
The owner of Ynys Groes commented "Converting to biomass from oil has been seamless.  Being a holiday home which is let out to tenants throughout the year it is important the boiler is not only reliable but also has controls that allow me to operate the heating system remotely to warm the house ahead of tenants coming in.  It was for these reasons we opted for the ETA wood pellet boiler".
With two domestic properties heated from a single biomass boiler the installation qualifies for the Non-domestic Renewable Heat Incentive Scheme enabling the system owner to benefit from index linked tariff payments for 20 years.
Installed Biomass Boiler
:
ETA 32kW PC wood pellet boiler
Estimated Annual Energy Saving
(against oil and electricity)
Estimated Annual RHI Payment
(non-domestic)
£3,100
Estimated Reduction in Carbon Emissions
16.7 tonnes
Nicky Howard-Rees, owner of Brodawel commented "I looked at various heating options to replace the expensive electric heating, but none were satisfactory in terms of install and running costs or practicality.  To be able to utilise a combined biomass heating system with Ynys Groes is ideal saving me the cost of a new boiler and halving the running cost of my old central heating system".
If you wish to enjoy the delights of Rhosneigr and have warm comforting stays at Ynys Groes or Brodawel please follow the links for further details.
To find out more about Biomass wood pellet boilers and if you could benefit please call Fervo Renewable Energy on 0333 240 2121 or contact us for a free site survey and system proposal.